Complimentary 90-Day Subscription - Stream Lite Order Delivery
Hello!
We are pleased to offer you a complimentary Stream Lite Order Delivery account and no credit card tokenization fees for three months.*
To get started, please complete the form below. Within 24 business hours from receipt, you will receive an email from support@brandwise with your login credentials. If you have any issues, please email support@brandwise.com.
Don't forget to check out our Support Center for video and written resources, and to reach our fantastic Support Team for further assistance.
Order Delivery subscription specifics can be found in the chart to the right.
For information regarding Stream Order Delivery, integration, tokenization, or payment processing options, please email Sales at sales@markettime.com..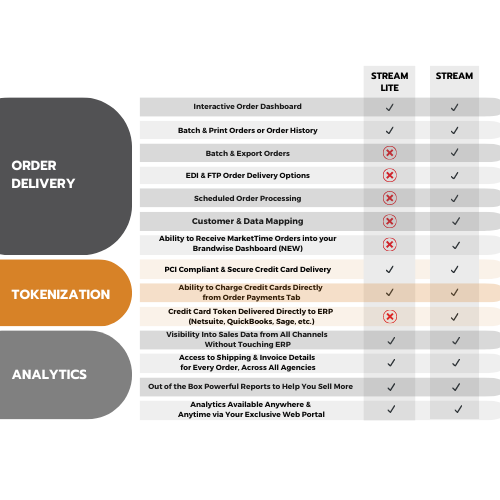 ---
*MarketTime has been hard at work ensuring all credit card orders processed through the platform are fully PCI-Compliant and 100% tokenized. Over the past several years, the fees associated with PCI compliance have been absorbed by MarketTime. To cover the rising costs of providing you with this service and level of security, we will be sharing a nominal amount of this cost with MarketTime customers. Beginning January 1, 2023, all brands will incur a .5% transaction fee on each credit card order delivered via Stream Lite or Stream. Paid Stream Lite and Stream customers will incur tokenization charges beginning the first month of their paid subscription. This charge will be invoiced monthly.
Agreement:
I agree with the terms, conditions, and costs as outlined above. I also understand that any interpretation of deliverables derived from a verbal conversation with a representative of MarketTime that is not expressly written in the Terms and Conditions, or any assumption of usability that is not expressly detailed in this agreement, is not enforceable in any way.